Building DeLand Since 1980!
#CBC028098


Our Mission: To construct and renovate for permanency.
About Jenkins Carpentry and Construction, Inc.
Born and raised in DeLand, Florida, George L. Jenkins, Jr. is a graduate of DeLand High School, a U.S. Navy Veteran, and Stetson University graduate in physics. After restoring older homes in the Nashville, Tennessee area, George returned to DeLand to start Jenkins Carpentry and Construction, Inc. and earned his contractor's license.
George is married to Ann and they have two grown children, Leila and Gideon.
Throughout the years he has been active in the DeLand Community at Trinity United Methodist Church,  DeLand Breakfast Rotary Club, and Rotary Club of Downtown DeLand.
Jenkins Carpentry & Construction, Inc. has built a team of carpenters and subcontractors who are experts in the following fields:
New Construction
Homes and commercial buildings
Historic Reconstruction
Older homes and buildings where large portions of the structure have been completely restored
Renovation
Addition and remodel on homes and commercial buildings
Speciality Items
Summer kitchens, window & door replacements, trim designs, and more
Maintenance
Replacing decayed wood, replacing fascia, foundation restoration, and more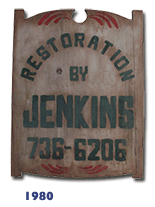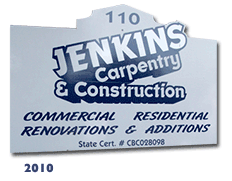 Our sign may have changed, but our honest business, trustworthy partnerships, and quality craftsmanship have been the same since our inception.